Commercial / Industrial Services
Experience & Expertise You Can Count On
At Bartow Fence, we have built thousands of miles of commercial fencing throughout Georgia, South Carolina, Tennessee, and Alabama. Our industry experience ensures we understand your commercial fencing needs and are knowledgeable in city regulations. We are proud of our dedicated team's reputation for delivering unparalleled quality and innovation while keeping our prices competitive. From privacy to security to enhancing general brand aesthetics, we have the expertise to get your fencing project done right.
Our commercial services include:
Unparalleled Quality & Innovation
• Gates & Security
• Chain Link
• Wrought Iron
• Aluminum
• Steel
• Vinyl & PVC
• Repair Services
Knowledgeable Team & Competitive Pricing For
• Schools & Colleges
• Federal Buildings
• Hotels
• Commercial Buildings
• Sporting Events
• Fairs
• City Events
We service commercial customers within a
100 mile radius of bartow county
Our perimeter security solutions and gates are engineered with the best materials in the industry to offer your commercial environment safety, security, and reliability.
Our exceptional gates and security hardware offer your business or government facility convenience and ease. We have reliable, built-for-strength options and that provide industrial-grade protection. Whether you have an event venue, retail storefront, or an equipment yard, security is our main concern for you and your employees.
Our industry-certified technicians and installers have 10+ years of experience with proven installation techniques. We have created thousands of beautiful and functional automated gating systems, advanced access controls, and traditional latch gates. We can match the gate design to your custom fence while offering you the most security for your commercial application.
We take pride in constructing top-quality, professional products that will last you a long time and operate as you intended. Get started with your free estimate by contacting one of our fence experts today.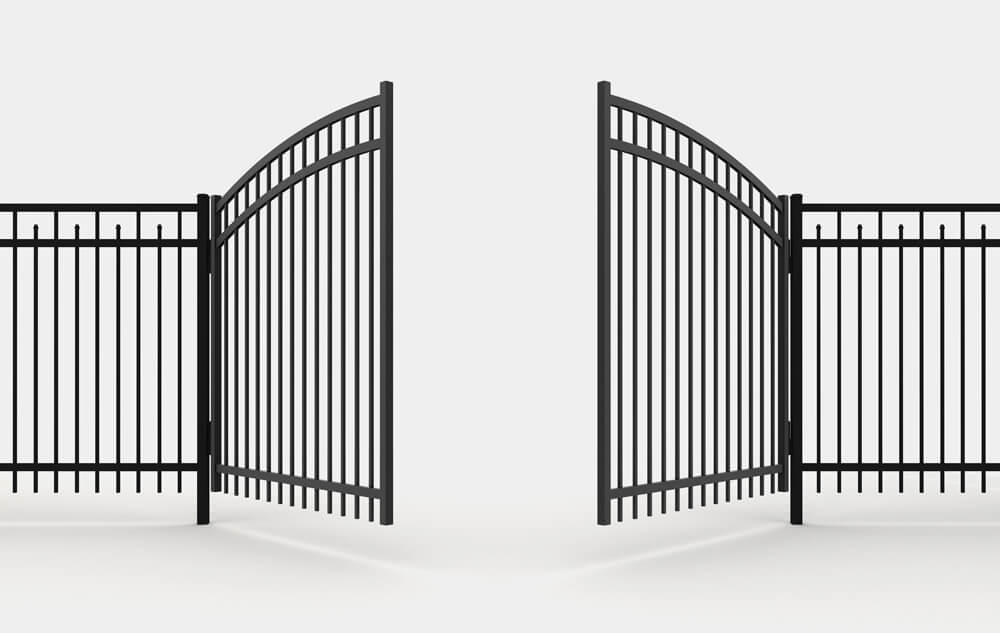 Commercial chain link fences are relatively inexpensive, easy to maintain, and offer clear sightlines for monitoring and security.
Chain link is one of the most popular types of fences used for commercial purposes. Our chain link fencing meets a high standard of quality and professional installation for solid durability and practicality. It's an economical option, offering advantages in security, cost, and function.
There are varying heights, gauges, and coatings available, making it an attractive addition to your business's exterior. The size of the wire mesh will also determine the fence's stability. Two inches is standard, although smaller mesh sizes will result in a more secure border.
Ranging from light commercial to heavy industrial grade, this can provide the best value with the most security. Galvanized steel and vinyl coatings make it resistant to corrosion, requiring minimal upkeep and a longer-lasting fence. These fences can be used in various applications and are perfect for schools, sports fields, business properties, and high-security areas.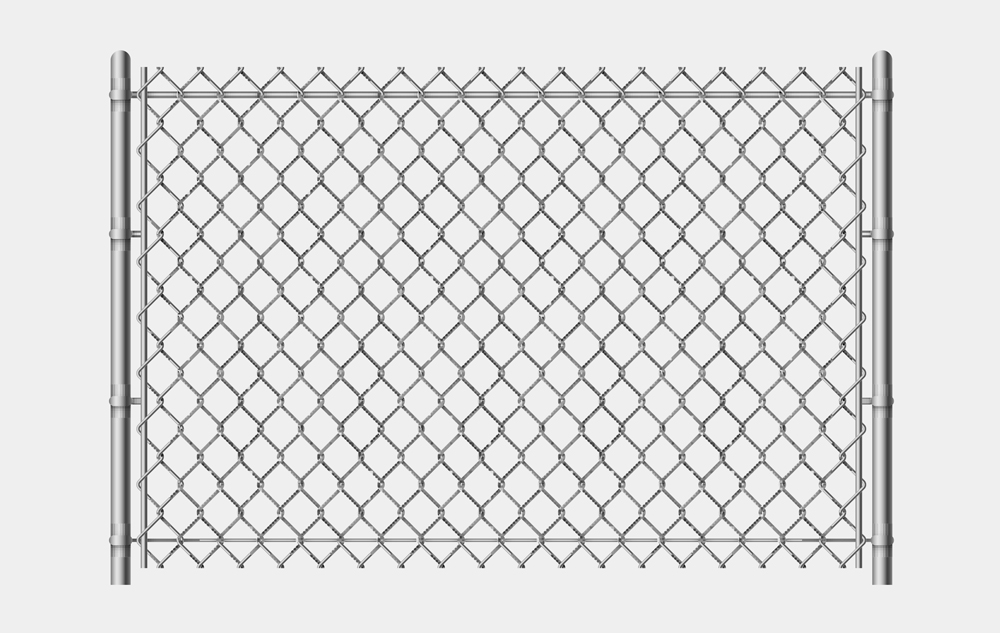 COLOR AVAILABILITY
Custom wrought iron fences are best when looking for increased security, maximum durability, and strength.
Wrought iron is an excellent option to work with to give your commercial fence strength and permanence, often thought of as a favorite for uses requiring extra security. Wrought iron is not easily damaged or dented. It can withstand incredible forces and hold up for years against harsh weather conditions, making it an extremely durable metal. It even has a higher rust resistance due to its material makeup than pure iron.
A wrought iron fence will create timeless beauty around your business. Forged, hand-worked embellishments and architectural flairs that are everyday staples of these fences add a sense of prominence and sophistication.
Whatever the application — whether commercial, industrial, or high-security — wrought iron is an ideal choice to last and provide superior quality.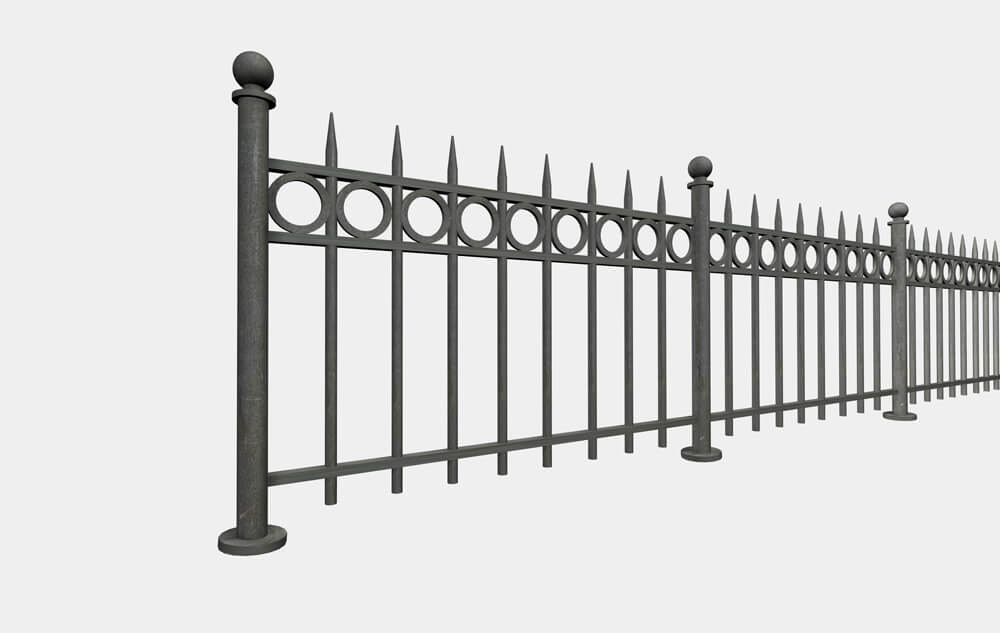 Our perimeter security solutions and gates are engineered with the best materials in the industry to offer your commercial environment safety, security, and reliability.
Contractors often favor aluminum fences for commercial use in and around city offices, parks, and apartment complexes. Commercial-grade aluminum is perfect for providing security and enhanced strength while creating a perimeter for high-traffic public areas.
Aluminum is a low-cost alternative to wrought iron or steel. It won't rust or crack as traditional metals will, and it's much more lightweight — making installation easier. It still gives you the appearance of a heavier metal without the maintenance or high-dollar expense. The durability of aluminum fences makes them great for keeping your business property, tenants, and employees safe.
Aluminum fencing is sure to add a clean, distinguished look to your property's landscape. Commercial aluminum fences have similar customization to residential-grade aluminum fencing. You'll be able to not only secure your facility but complement the aesthetics of your building and increase the appeal of your property.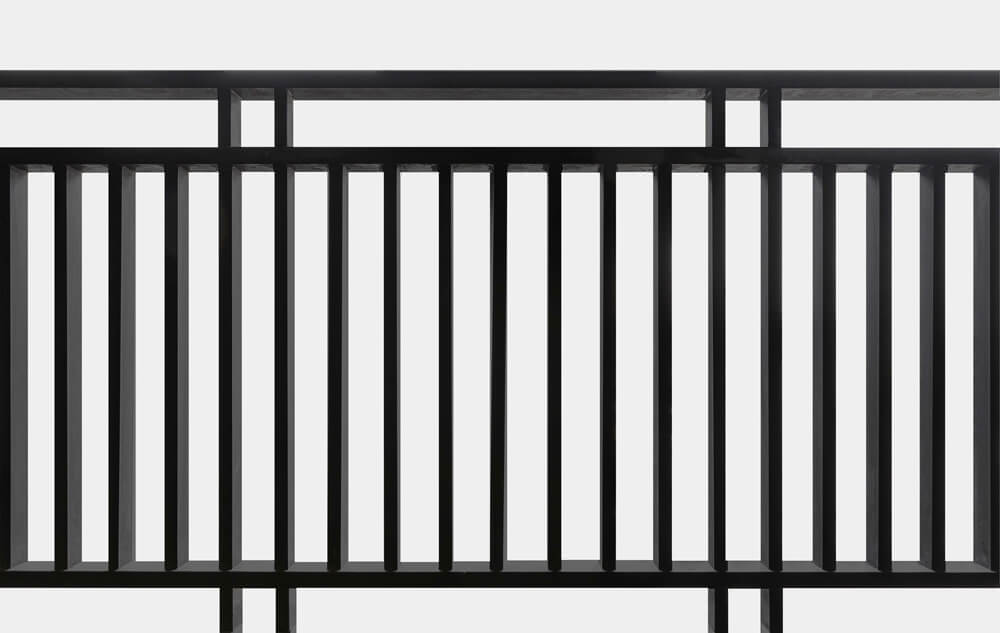 COLOR AVAILABILITY
Our steel fences are robust and straightforward. Offering commercial and industrial strength, they prioritize security and improve the look of your business's exterior.
Steel is one of the best building materials for durability and longevity. Corporate properties looking to create a secure barrier around their place of business should consider steel fencing. It's tough, safe, and leaves open visibility to the surrounding areas.
Naturally resistant to rust and mold, steel fencing is often coated with a protective layer to help withstand harsh elements. It is a much cooler metal than its iron counterpart, which conducts more heat, and it won't pose a threat or fire hazard as wood fencing does. Lowering your property's possibility of fire will reduce your potential business liability (which could save you thousands!).
Steel fencing is much more sturdy than other commercial options such as vinyl or aluminum and will last longer if maintained properly. Steel works well to enhance commercial landscapes and helps keep intruders out and mark property boundaries, making it clear what people can and can't access. The reliability and practicality of this metal have made it increasingly appealing for use in commercial and industrial applications — especially if the main goal is increasing security.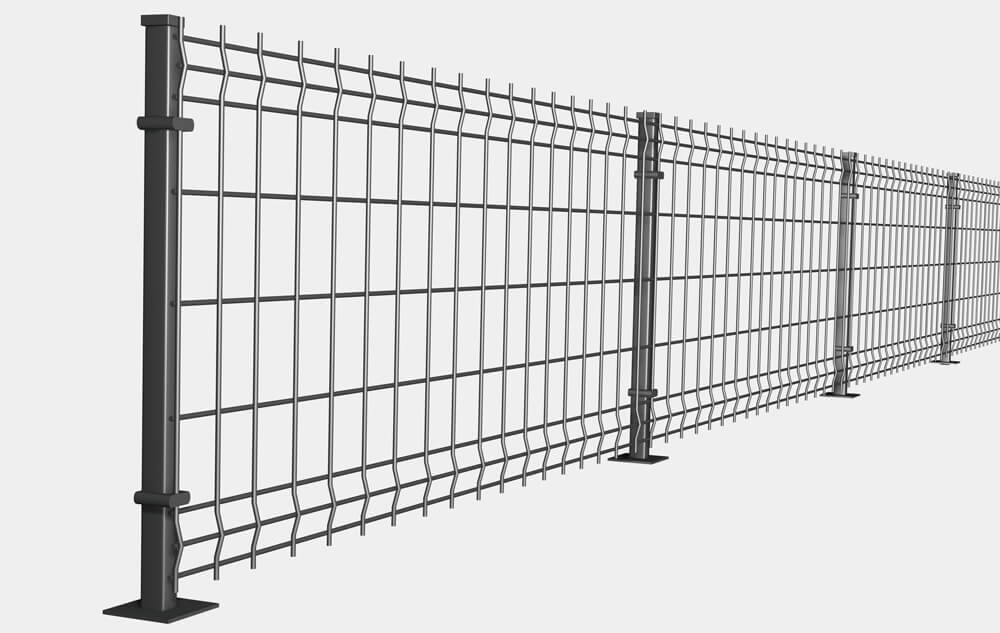 COLOR AVAILABILITY
Vinyl and PVC are modern choices that offer structural integrity and brilliant color retention for years to come.
Although more commonly seen wrapping suburban homes and creating privacy walls around spacious backyards, vinyl and PVC fencing are still an inexpensive and prominent way to accent your business or secure your commercial property.
Vinyl is an accessible material that's easy to keep clean and fade-resistant. It can amplify the vibrancy of apartment complexes and commercial buildings while creating privacy and distance from other surrounding buildings. A popular sound buffering choice, vinyl fencing can help minimize noise and visually block the view of buildings that have fallen into disrepair.
The durability of vinyl fencing makes it a favored choice when safety is a concern. These fences offer a strong, sleek style that will not rust, rot or warp and come in a selection of colors to compliment your business's exterior appearance.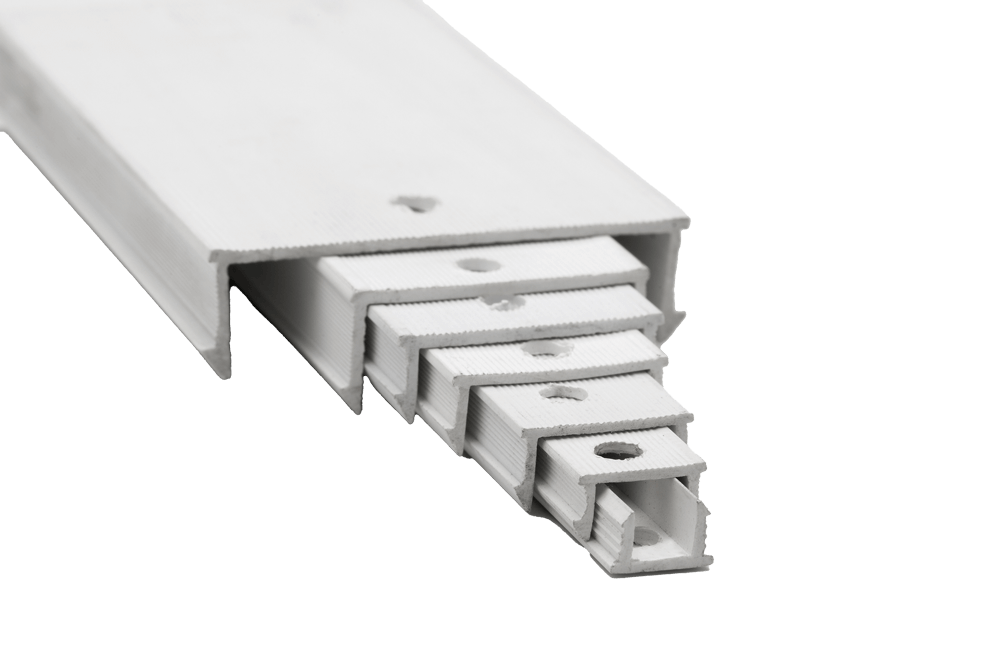 COLOR AVAILABILITY
Repair Services
We set high standards for ourselves and are proud to say we always deliver. We have built a reputation and gained credibility based the quality craft and the world-class repair services we provide.
Even with heavy-duty and industrial-grade products, commercial fences need regular maintenance to keep working correctly — especially in high-traffic areas.
We, at Bartow Fence, are proud of what we do, bringing an exceptional level of expertise to the table. Whether for high-risk security, school grounds, sporting events, or scenic business landscaping, we can help repair your commercial fence.
When you hire Bartow Fence to help with your repairs, you can be confident our knowledgeable team will meet, complete, and exceed your fencing project's expectations.