Build Beautifully with Bartow Fence
At Bartow Fence, we want you to be happy with your new fence and the privacy, security, and curb appeal it provides. As an HOA contractor with more than ten years of experience, our installers thoroughly understand HOA and city regulations. We pride ourselves on our top-quality work and use only the best materials in the industry, so you can rest assured your fence is safe and durable. We appreciate your consideration of Bartow Fence and look forward to helping you find the perfect fence solution that fits the style, design, security, and function you need.
Our Residential Services
• Wood
• Vinyl & PVC
• Aluminum
• Steel
• Wrought Iron
• Chain Link
• Pool Security
• Gates & Security
• Repair Services
Give us a call today at (770) 334-3434 for a free estimate and to speak with one of our fencing experts about your next project. When you hire our team, you can be confident that your fencing project is in good hands.
Wood is a readily available, versatile, and environmentally friendly material. It offers privacy, comfort, and beautiful aesthetics that will last for years to come.
Wood fencing is a natural and popular choice that will accent your home beautifully while offering privacy and security. The natural texture, color, and grain of wood allows you to visually enhance your home's exterior and add value to your property.
Split Rail — Popular for defining property boundaries for residential or agricultural areas and is an economical alternative to a chain-link fence. Split rail fences offer the most natural and rustic aesthetic to your home and are great for covering large areas. They have a simple design, maximized visibility, and installation is typically faster than other wood options
Picket — Often, the "white picket fence" idea is associated with suburban design and the concept of the original American Dream. It not only offers stylish charm but is a cost-effective and functional option. The picket fence has even become popular with more modern materials, such as vinyl fencing.
Privacy — An excellent option for keeping your family safe and having more comfort on your private property. A privacy fence (typically between 4 and 6 feet tall, with no gaps between the wood slats) will keep out intruders, wandering eyes and provide more seclusion. Custom modifications can also be made to add flair and style.
Our vinyl fencing offers a stylish and sleek design with strength and durability you can count on. It provides security without the headache of regular maintenance costs.
Polyvinyl chloride (PVC) is one of the most popular construction materials among contractors and homeowners alike. It's a low-cost, durable alternative for those who want the classic look of a wood fence without regular maintenance.
Vinyl PVC is great for the outdoors as a fencing material because it will not rot, decay, or warp. It also resists harmful UV rays, so it's sure to remain bright throughout the year.
There are many possibilities for style and customization, similar to traditional wood fences, from a simple picket fence to solid privacy fences. High-quality vinyl can be textured to give it a more authentic, wood-like appearance or left smooth to add a strong, sleek design element to your home.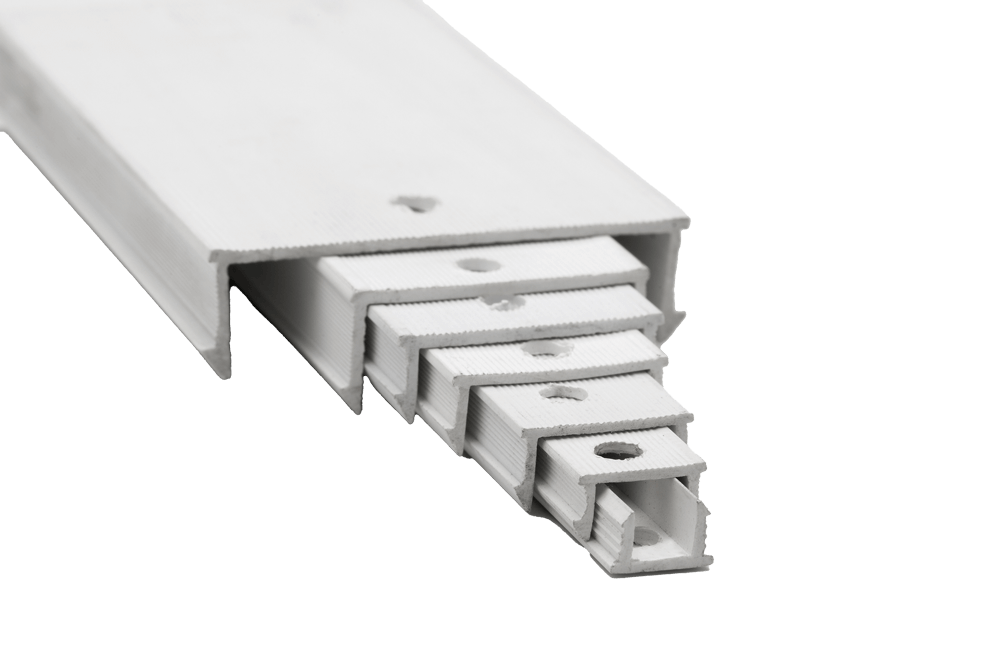 COLOR AVAILABILITY
With aluminum fencing, you get the stately beauty and maximum strength of more expensive options with less upkeep and maintenance.
Aluminum is an elegant way to secure your home, blend with the property landscape, and maintain your scenic neighborhood views. Unlike other metal counterparts (wrought iron or steel), it's easy to obtain, inexpensive to manufacture, and lightweight, making it a popular alternative.
The durability offered by aluminum fencing is unparalleled. It's long-lasting, weatherproof, and does not rust as with other options. One of the more unique benefits of installing this type of fence is its compatibility with most topography. Aluminum is a "rackable" material. Meaning, if you have a challenging slope in your yard, the installers can adjust the fence to follow the terrain without creating gaps underneath — keeping your yard secure.
Aluminum is highly malleable, which allows for beautiful customization along your fence. Picket accents — such as scrollwork, curves and arches, decorative finials, and ornamentation — often found on more expensive wrought iron fences can be achieved, giving you the desired look to compliment your landscape and increase property value.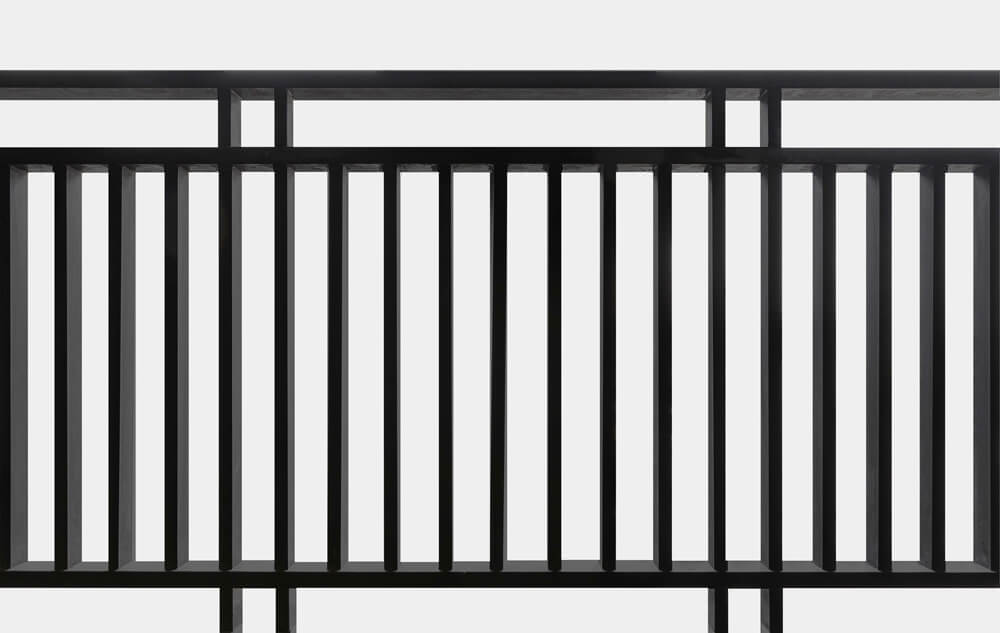 COLOR AVAILABILITY
Steel fencing offers strength, security, and simplicity. It's an attractive option that prioritizes safety and functionality.
Steel fencing can often be a better choice over wrought iron if you need to stick to a budget. This is especially true if your goal is to enclose a larger land area. Steel is lighter than iron, though it's still much more robust, powerful, and heavy than aluminum fencing alternatives. Our steel is also galvanized and won't deteriorate or warp over time, making it a highly durable choice.
If your primary concern is to feel safe and keep your home secure, steel is a simple, unique option that will deter unwanted guests. Because it won't deteriorate, you and your loved ones can feel at ease and know it'll last to protect your property. With steel, you'll have minimal maintenance to keep your fence looking clean, new, and secure.
Our steel fences can be cut and manufactured to fit your height and style needs. The straight, crisp lines create a sleek, modern appearance that will complete your residential fencing project.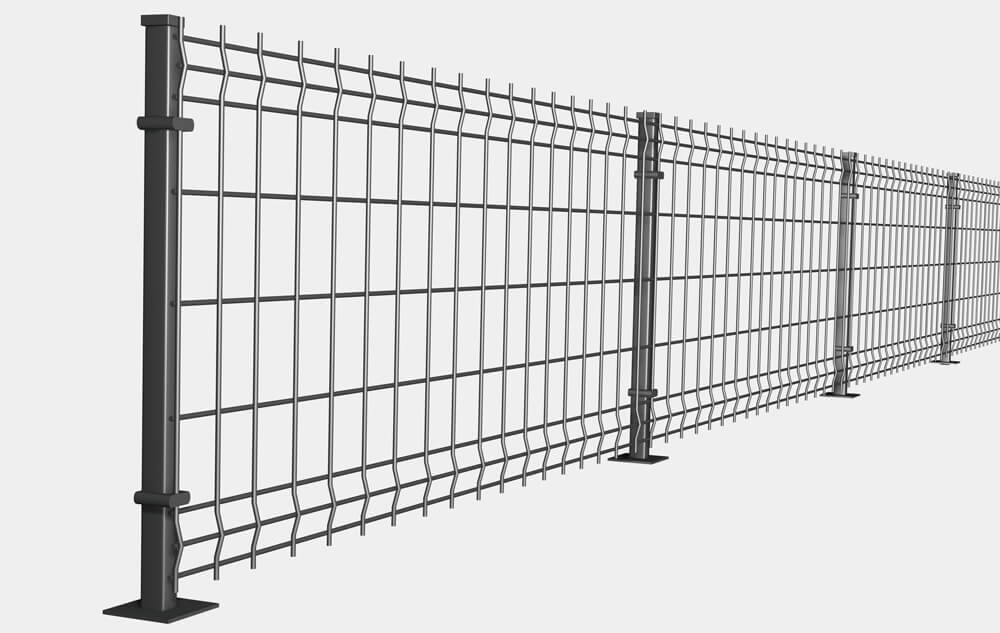 COLOR AVAILABILITY
Hand-shaped and custom-crafted wrought iron fences are a sure way to increase the value of your home and make a statement.
The exceptional build and strength of wrought iron metals make it a sought-after material for security and design. It's a more elegant option than steel fences that offers the same powerful safety with handcrafted ornamentation. These reasons make it popular for residential applications, including grand entrances, exterior decoration, and gorgeous garden enhancements.
Often these fences have decorative architectural elements that let them stand alone beautifully in your yard. You can get highly elaborate with ornate designs or stay simple and sophisticated.
The superior quality of wrought iron fences puts it among the more expensive fencing options. It's heavy and long-lasting, suited to withstand all-season weather and harsh environmental conditions.
Because wrought iron is extremely heavy, it requires a skilled professional for installation. We offer precision installation and customization to help you bring your vision to life, creating the perfect, long-lasting design.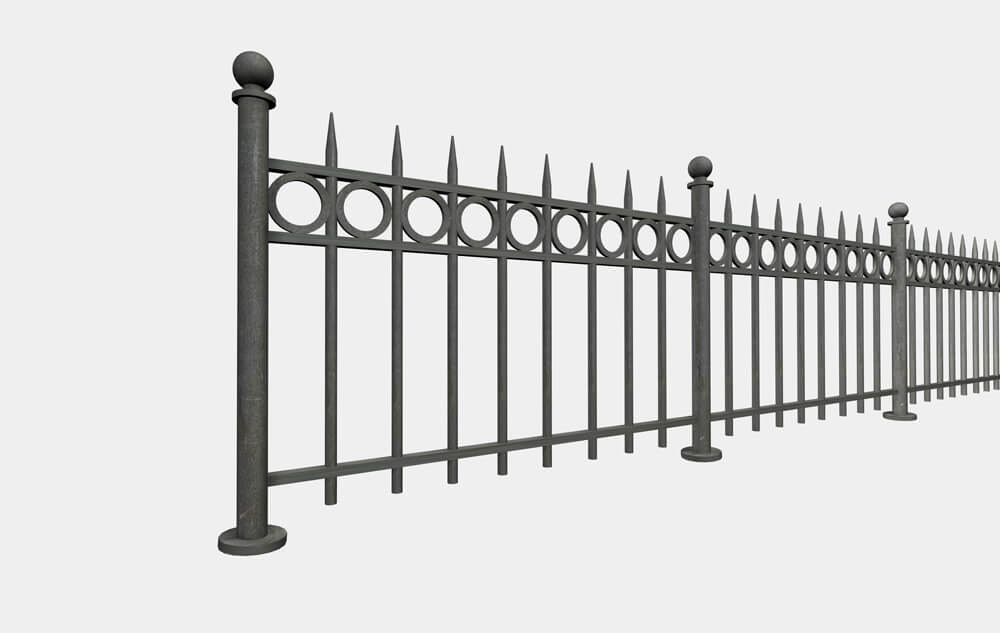 Chain link fences are a practical option for enclosing your yard and offering security. They are easy to maintain and provide an affordable choice for homeowners.
Posts and rails are used to create the basic structure of your chain link fence and are held together by caps and a tension bar. Our chain link fences are a smart choice for residential applications because we use good quality, heavy-duty materials — making them highly durable. If you're looking for a more updated look than the traditional chain link fence, vinyl and PVC coatings are an option that will completely change the visual aesthetic.
COLOR AVAILABILITY
Considerations for Your Chain Link Fence
Mesh — The mesh size has to do with the distance between two parallel wires to create the pattern of the wiring frame. Steel is primarily used to create a stronger mesh, whereas aluminum is used to create more lightweight or temporary options.
Coating — The coating is the outer layer that protects the steel wire. Zinc and aluminum are among the most common coating options. Zinc has the benefit of protecting your fence from rust and natural erosion, while aluminum isn't quite as resistant.
Privacy Slats — While chain link fences are often noted for providing high visibility, the addition of privacy slats can create more solitude and privacy in your backyard.
Our perimeter security solutions and gates are engineered with the best materials in the industry to offer your commercial environment safety, security, and reliability.
Our exceptional gates and security hardware offer your business or government facility convenience and ease. We have reliable, built-for-strength options and that provide industrial-grade protection. Whether you have an event venue, retail storefront, or an equipment yard, security is our main concern for you and your employees.
Our industry-certified technicians and installers have 10+ years of experience with proven installation techniques. We have created thousands of beautiful and functional automated gating systems, advanced access controls, and traditional latch gates. We can match the gate design to your custom fence while offering you the most security for your commercial application.
We take pride in constructing top-quality, professional products that will last you a long time and operate as you intended. Get started with your free estimate by contacting one of our fence experts today.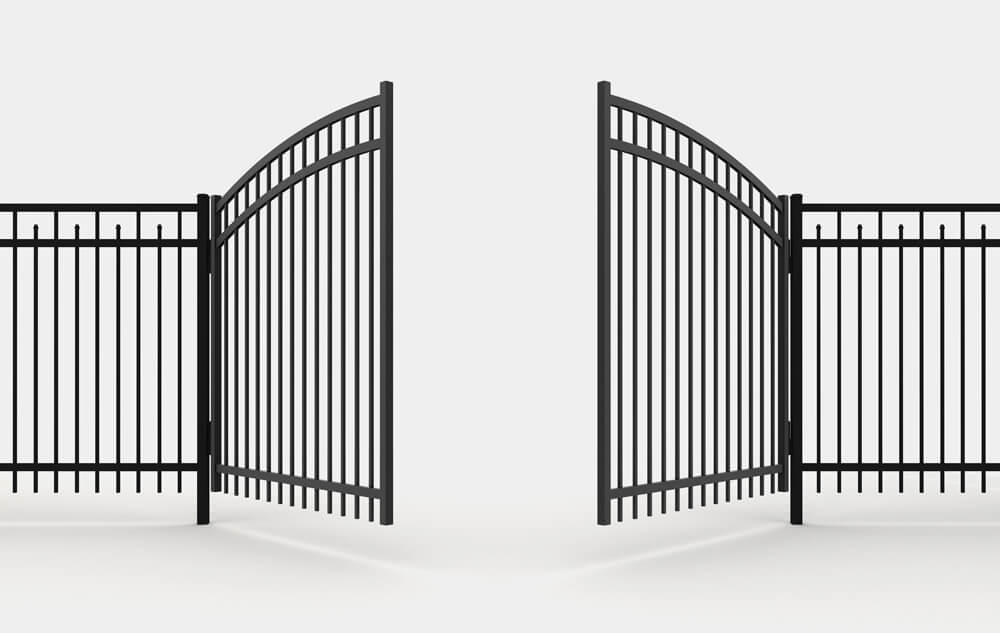 Commercial chain link fences are relatively inexpensive, easy to maintain, and offer clear sightlines for monitoring and security.
Chain link is one of the most popular types of fences used for commercial purposes. Our chain link fencing meets a high standard of quality and professional installation for solid durability and practicality. It's an economical option, offering advantages in security, cost, and function.
There are varying heights, gauges, and coatings available, making it an attractive addition to your business's exterior. The size of the wire mesh will also determine the fence's stability. Two inches is standard, although smaller mesh sizes will result in a more secure border.
Ranging from light commercial to heavy industrial grade, this can provide the best value with the most security. Galvanized steel and vinyl coatings make it resistant to corrosion, requiring minimal upkeep and a longer-lasting fence. These fences can be used in various applications and are perfect for schools, sports fields, business properties, and high-security areas.
There are three distinct types of pool security fences you'll want to consider:
Perimeter — A permanent option that surrounds the boundary of your yard, including the space of the pool.
Interior — The most common type of pool security fencing, only enclosing the pool itself rather than the entire face of the yard.
Removable — Exactly what it sounds like: a temporary option that can be partially removed to allow full access to the pool area.
Repair Services
As fences age and weather, they require maintenance (some more regular than others), and sometimes major repairs are unavoidable.
Repairs to fences can occasionally present challenges and tricky situations. Depending on where the damage is, the type of fencing material, and the installation process, it may require a whole panel to be replaced instead of a single post or board.
At Bartow Fence, we have over ten years of experience repairing and constructing beautiful and reliable fences. We stand by our products and the quality of workmanship our fully certified fence experts provide and can help pull your fence out of disrepair.
Fence Repair or Replacement?
Unsure if you need just a few boards repaired or if you'll have to replace a whole section altogether? Performing regular maintenance will help keep your fence looking new and in good condition for as long as possible, but sometimes the damage is unavoidable.
If wood is not regularly maintained, it can rot and develop holes. Vinyl — a typically low maintenance option — can crack or become damaged from storms or lawn machinery collisions. Tension from chain link fences may loosen, and hinges on gates can become worn out and squeaky.